Yes, we are open !!
2022.10.26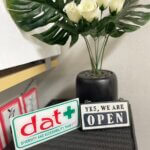 Yes we are open !! It has been almost three years since  we handled our last incentive group . We did not expect that the Corona virus pandemic issue will be extended for quite a long time. It has become a worldwide problem since then  especially during pandemic's breakout for the first two years. Although  it still a problem at present , tourism has  begun moving on and Japan has already accepting tourists from different parts of the world. Not 100 percent  for inbound tourism ready though, every tourism entities are opening their doors again for a bright future ahead. 
DAT PLUS will be celebrating its eight year anniversary next month ( November 20) and we are proud to announce that we open our door again to inbound reservations and inquiries. We will start our land operation services with the charter group from Hawaii ( 30 October-08 November). There will be about 180 tourists from Hawaii who will arriving by charter flight via JAL. Hawaii is one of the participants in " The Seventh World Uchinanchu Festival". An event which recognize and honor the achievements of Okinawa people from all over the world.The main purpose is bringing people together once every 5 years in their home prefecture of Okinawa to find  their roots/identity  so that they can pass them on to the next generation.
The "chimu-don don" ( very excited)  feeling is pouring from us and our fellow land operators in the island. Let us join together in making this event a success . Let the good times roll !!